Dental Crowns at Boiling Springs Family Dental
Experience Our Same-Day Crown Creation System with CEREC®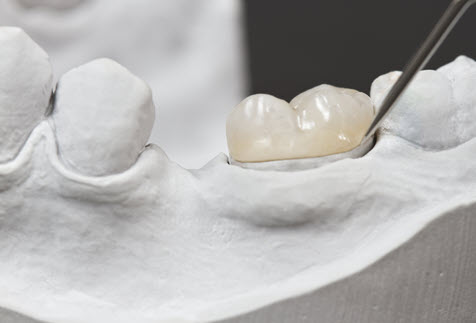 Dental crowns, often referred to as caps, are versatile dental restorations designed to encase and protect damaged or weakened teeth. Crafted from materials like porcelain, ceramic, metal, or a combination, crowns restore both function and appearance by providing a durable outer layer that covers the entire visible portion of a tooth.
Dental crowns serve various purposes, including reinforcing a tooth after a root canal procedure, restoring a severely decayed or fractured tooth, enhancing the aesthetics of misshapen or discolored teeth, and supporting dental bridges. The process of getting a dental crown typically involves reshaping the tooth to accommodate the crown, taking impressions, and placing a temporary crown until the final restoration is fabricated.
Dental crowns offer long-lasting protection, improved oral function, and natural-looking results. They play a crucial role in preserving the structural integrity of compromised teeth while enhancing overall oral health. Regular dental care and proper oral hygiene are essential to ensure the longevity and effectiveness of dental crowns.

Our Same-Day Service for Crowns
Our CEREC® system allows us to replace conventional impression methods with a clean, fast digital scan that is obtained in just a few minutes through a series of photographic images taken in the mouth. Combining this scanned data with our advanced software, we're able to design a custom, permanent restoration. A milling unit then fabricates your restorative design quickly and conveniently, right in our dental office.
Let's face it, very few of us have perfect teeth, free of decay and fillings. You can probably see a filling or two in your own mouth, which do just that — "fill" a cavity, or hole, in your tooth left from the excavation of decayed tooth structure. In many cases, those fillings are made of metal material and can go bad, weaken the tooth, or get additional decay under or around it. In fact, 1.2 billion of these metal fillings will need to be replaced in the next 10 years.
CEREC is a method used by thousands of dentists worldwide since 1987 not only to replace these fillings, but also to restore any tooth that is decayed, weakened, broken, etc. to its natural strength and beauty. Better yet, it's done with all-ceramic materials that are tooth-colored in a single appointment!
First, your Dentist examines the tooth and determines the appropriate treatment. It could be a simple filling, or a full crown, depending on how much healthy tooth structure is remaining and the clinical judgment of your Dentist. Next, he or she administers an anesthetic and prepares your tooth for the restoration, removing decayed and weakened tooth tissue. This preparation is just like he or she would do for many other restorative techniques.
Then, your Dentist takes an Optical Impression of the prepared tooth, instead of filling a tray with impression "goop" that you must bite into and hold in your mouth until it hardens. A camera is used to take a digital picture of your tooth. This whole Optical Impression process takes only a minute or two.
Next, the CEREC machine helps the Dentist create the restoration for your tooth. The CEREC 3D software takes the digital picture and converts it into a 3-dimensional virtual model on the computer screen. Your Dentist then uses his or her dental expertise to design the restoration using the CEREC 3D computer program. Within a few minutes, your Dentist clicks a button, and the restoration design data is sent to a separate milling machine in the office.
A ceramic block that matches your tooth shade is placed in the milling machine. About 20 – 30 minutes later, your all-ceramic, tooth-colored restoration is finished and ready to bond in place. Finally, your Dentist tries the restoration in your mouth to ensure proper fit and bite. The restoration is then polished and bonded to the prepared tooth. Your tooth is restored with no "temporary" or return trip necessary. All of this is done in a single appointment! Ask us about CEREC today.
CEREC is an acronym…
Chairside: The technology is in the dental operatory and used while you are in the chair
Economical: The procedure is economical for both dentist and patient
Restorations: The procedure restores your tooth to its natural beauty, function, and strength
Esthetic: The restorations are metal-free and tooth-colored
Ceramic: High-strength ceramics are used that are close in composition to your natural tooth structure.
CEREC is an advanced dental restorative system that allows your dentist to restore decayed teeth, place crowns, remove defective amalgam fillings, or place cosmetic veneers in just one appointment. This allows you to have the highest quality, most lifelike dental restorations in just one visit to the dentist…in, out, and on with your busy life.
The CEREC Acquisition Unit is mobile and houses a medical grade computer and the CEREC camera. Your dentist uses the camera to take a digital picture of your prepared tooth. This picture is used instead of a traditional impression. This means no impression tray and material for you to gag on. The computer and CEREC 3D software converts the digital picture to a three-dimensional virtual model of your prepped tooth.
Your dentist then designs your restoration right on screen using the software while you wait (and watch!). This software can assist your dentist with designing any single tooth restoration: crowns, inlays (fillings), onlays (partial crowns), and veneers. Once your dentist has designed your restoration (usually about 5 minutes), he or she clicks a button, and the design data is communicated via a wireless radio signal to the CEREC Milling Unit.
Your dentist or dental assistant selects a ceramic block that matches the shade of the tooth being repaired. He or she then inserts the block into the Milling Unit. The data from the Acquisition Unit is used to direct two diamond-coated burs to carve the block into the indicated shape of the restoration. This process usually takes 8 to 18 minutes depending on the size and type of restoration.
After the milling is finished, your dentist polishes the finished filling or crown, sends it through an oven to harden and glaze the porcelain, and bonds it into place.
We Deliver World-Class Care with a Home-Town Feel
Boiling Springs Family Dental
210 Forge Road
Boiling Springs, PA  17007
Phone: 717-258-3858
Fax: 717-258-8458
Monday        –     8am – 5pm
Tuesday        –     8am – 5pm
Wednesday  –     8am – 1pm
Thursday      –     8am – 5pm
Friday            –    CLOSED