Dental Nightguards at Boiling Springs Family Dental

Dental nightguards, also called occlusal splints or bite guards, are specialized oral devices crafted to alleviate the negative effects of teeth grinding (bruxism) and jaw clenching during sleep. Custom-made to fit the patient's mouth, these guards act as protective barriers between upper and lower teeth, absorbing the forces generated by these habits and preventing dental damage, enamel wear, and related discomfort.
Dental nightguards not only reduce the risk of dental issues like fractures and worn teeth but also alleviate symptoms such as headaches and jaw pain caused by bruxism. Dentists create nightguards by taking impressions of the patient's teeth for precise fitting. Regular use of these devices can help preserve dental health and overall well-being by preventing the consequences of nighttime grinding and clenching.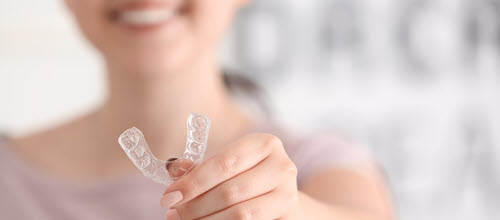 We Deliver World-Class Care with a Home-Town Feel
Boiling Springs Family Dental
210 Forge Road
Boiling Springs, PA  17007
Phone: 717-258-3858
Fax: 717-258-8458
Monday        –     8am – 5pm
Tuesday        –     8am – 5pm
Wednesday  –     8am – 1pm
Thursday      –     8am – 5pm
Friday            –    CLOSED